Personalized murder mystery game builder
Customize scripts in 15 minutes. Play on your phone or print out. Delivered instantly.
Karen killed Peter in the parlour with the banana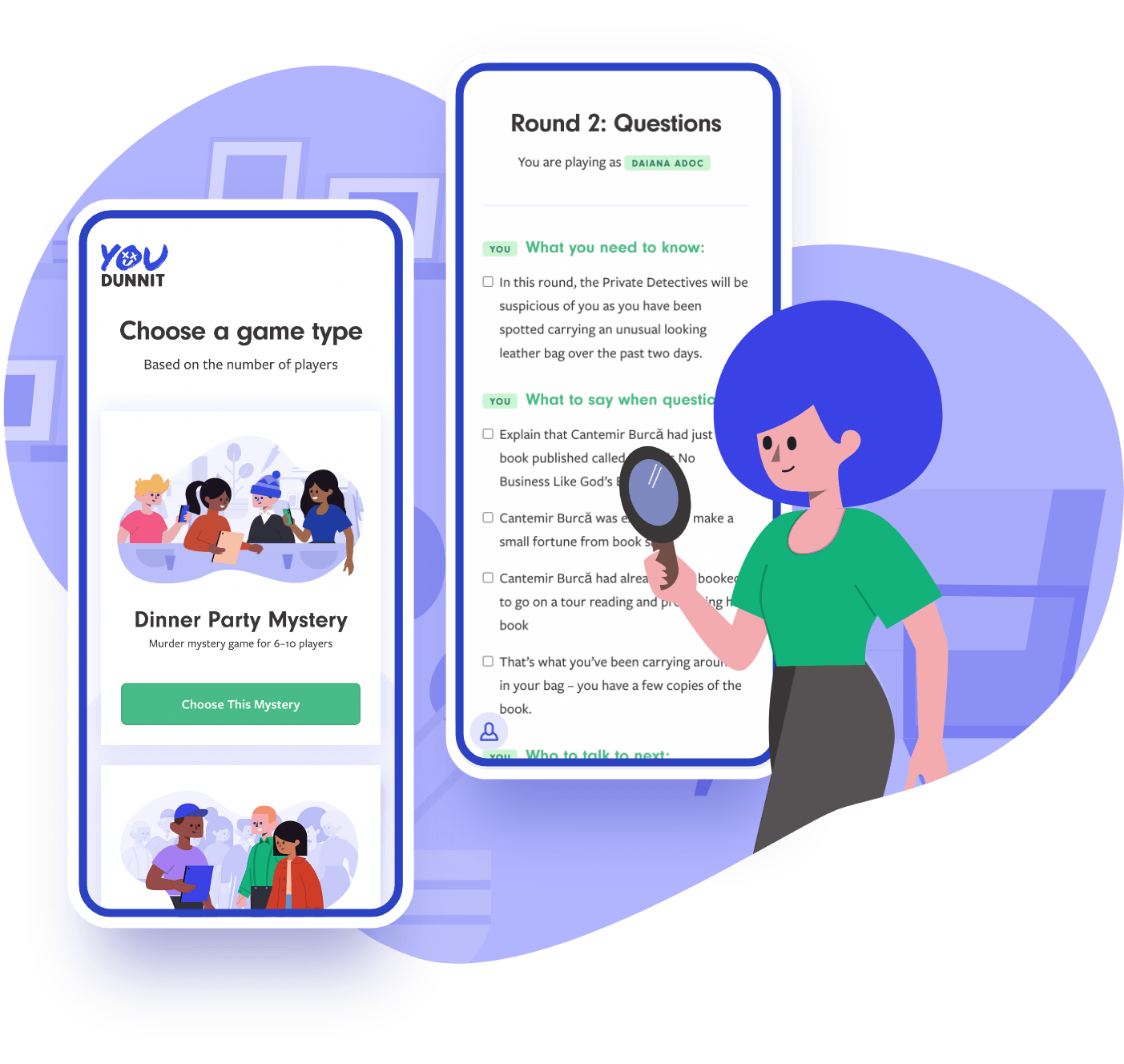 Planning a party can be murder
Our personalised murder mystery game builder makes it easy plan a party your guests will never forget.
Personalise your murder mystery
Get creative and have fun
Play on your phone
With the option to print out
Simple to set up and play
Fun and safe for all ages 11+
Play in real life or online
Play at a dinner party with friends – or online with Zoom, Facetime or Hangouts.
Make my murder mystery
"It was so much fun and easy for people to get involved. A really brilliant murder mystery story!"
Nick T
"Everyone loved it. It was one of the best Christmas Parties we have ever had."
Bryn J
"We had such a fun night! It's great to be able to change your persona and be completely extravagant (if you want to!). The game is really easy to use and is tailored for each party! Can't wait for the next one!"
Emma M
"Everyone was engaged from the start and threw themselves into solving the murder. The event was great fun – and brilliant value for money."
Rachel M
Make your personalised murder mystery in under 15 minutes
Fill in your game details
Characters, weapon, locations and more
We generate your game
A unique murder mystery for your guests
Preview and purchase
Quick and easy to create and buy
Host a rip roaring party
Your guests will never forget!
Gift Card
Give the gift of murder
Buy a gift voucher for You Dunnit murder mystery games.
Gift Vouchers